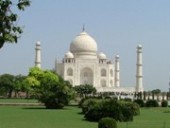 Agra, located on the banks of river Yamuna,in the state of Uttar pradesh, India, has a continental climate, with long, hot summers from March to September. During summers dry winds (loo) blow in this region. Agra is also prone to dense fog during the winter months of December & January.

A major tourist destination, Agra is best visited in the months of October, November, February and March.

As of the 2001 Indian census, Agra had a population of 1,326,000. Males constitute 53% of the population and females 47%. Agra has an average literacy rate of 81%, higher than the national average of 59.5%; with 86% males literate. 11% of the population is under 6 years of age. Hindi is spoken by virtually everyone; English and Urdu are also spoken.