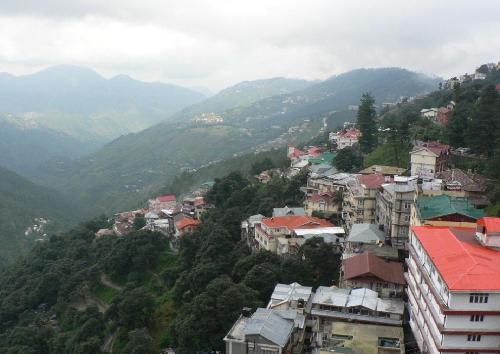 Shimla, was the Summer capital of India under British rule . Presently, it is the state capital of Himachal Pradesh, with its population around 1.6 lacs (Shimla town only). Shimla has seen many important historical events such as the famous Shimla Pact between India & Pakistan which was signed here. The place is also famous for its natural beauty, architectural buildings, wooden crafts and apples .
Shimla can be visited throughout the year, as each season has its charm. The snowfall during the winters attract many tourists and accommodation can prove to be difficult. In the summers one can escape from the scorching heats of the plains and can enjoy the cool breeze at Shimla and in its vicinity. In summer, Shimla has the attraction of excellent walks and treks against the backdrop of the scenic beauty of wooded ravines, flowers and pines. Mall of Shimla becomes alive once again with tourists strolling and shops tastefully decorated and various exhibitions, craft fair etc. organised at locations on the mall.

In winters, it is home to winter-sports and an ice-skating carnival. Today, Shimla is the capital of Himachal Pradesh and a favorite for filmmakers who wish to incorporate its scenic romanticism in their movies. Shimla is a stark example of the diversity that India offers to tourists.