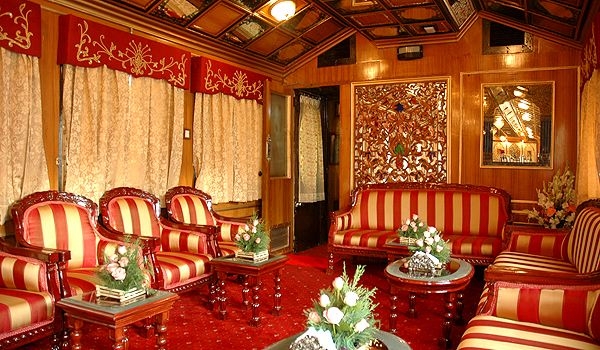 The Palace on Wheels Tour is the wonder of wonders. It's awe strucking how this running wheel has managed to enfold within itself so much of style, aura and royalty. No words can even begin to describe the traditional and so very rich in culture, beauty of the Palace on Wheels Tour.

As soon as you set your foot on the first buggy of Palace on Wheels, you can feel the beauty of the palace train oozing from within. The rich, plush carpets beneath your feet on palace on wheels remind you of your mother's touch.

Once aboard, you are sure to be transferred to a different era of kings, queens and royalty, where everything will be so very mesmerizing. The Palace on Wheels Tour is truly a palace in every sense of the word! Do not miss the experience!

The train was built for the former Indian royalty and comprised of personal coaches of the rulers of the princely states of Gujarat and Rajputana, the Viceroy of British India and the Nizam of Hyderabad.

Soon India won her independence and the princely states became part of the nation. The train was abandoned but did not lose its intrinsic charm. In the early 1980s, the Rajasthan Tourism Development Corporation, together with the Indian Railways decided on a special train to offer people a taste of the Indian past. Today, the Palace on Wheels is the most promoted product by the Ministry of Tourism, Government of India.