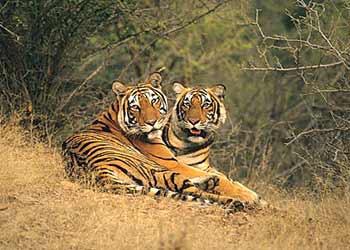 Ranthambore National Park is one of the prime examples of Project Tiger's conservation efforts in Rajasthan. The forests around the Ranthambore Fort were once, the private hunting grounds of the Maharajas of Jaipur. The desire to preserve the game in these forests for sport, was responsible for their conservation, and subsequent rescue by Project Tiger.

The Park sprawls over an estimated area of 400 sq kms. Steep crags embrace a network of lakes and rivers, and a top one of these hills, is the impressive Ranthambore Fort, built in the 10th century. The terrain fluctuates between impregnable forests and open bushland. The forest is the typically dry deciduous type, with dhok, being the most prominent tree. The entry point to the Park, goes straight to the foot of the fort and the forest rest house, Jogi Mahal. The latter boasts of the second-largest banyan tree in India. The Padam Talab, the Raj Bagh Talab and the Malik Talab are some of the lakes in the area, that attract the tiger population. They have been spotted at the edges of these lakes, and Jogi Mahal itself. Old crumbling walls, ruined pavilions, wells, and other ancient structures stand witness to the region's glorious past. The entire forest is peppered with the battlements and spillovers of the Ranthambore Fort - tigers are said to frequent these ruins, too. As a result of stringent efforts in conservation, tigers, the prime assets of the Park, have become more and more active during the day. More than in any other park or sanctuary in India, tigers are easily spotted here in daylight. They can be seen lolling around lazily in the sun, or feverishly hunting down Sambar around the lakes.

Ranthambore is also categorised as a heritage site because of the picturesque ruins of the fort that dot the park. The lake palaces, 'chhatris', old fortifications and a majestic fort dating back to 1,000 years overlook the park. The Jogi Mahal and the Padam Talao are the unique features of Ranthambore National Park. The park is famous for the majestic Royal Bengal Tigers, which can be seen around the lakes and watering holes, prowling through the forest or resting on the ruins of the fort. Ranthambore National Park is one of the best sanctuaries to see tigers in their wild habitat in India. Many dignitaries have visited Ranthambore National Park to see its majestic tigers. President Bill Clinton of the United States came to Ranthambore National Park on his visit to India and expressed his delight at seeing the tigers of Ranthambore.